How Does This Clean Your Undercarriage? 💦🚗
"My husband works at a cement plant. He drives a black truck and it is

difficult to keep clean

especially under the truck where

cement was attached to the undercarriage.

This gadget connects to a pressure washer.

It did the job.

"
-Hana Kemp
✅ POWERFUL: The powerful jet of water can blast away dirt and grime much easier than a conventional water hose. Can handle pressure from 1500 PSI to 4000 PSI. Recommended to use 2500 PSI or higher to get the best results.
✅ FLEXIBLE: The nozzle of this Undercarriage Cleaner works perfectly with most pressure washers, with a 1/4 inch male plug, so you can clean hard-to-reach areas. Get rid of grime, oil, and fuel contaminants, mud, dirt, and more under cars, trucks, SUVs, commercial-size vehicles, and trailers.
✅ EASY TO USE:  The undercarriage cleaner works for hot and cold water, features a quick disconnect function for smoother use. No need to crouch down to get your car clean!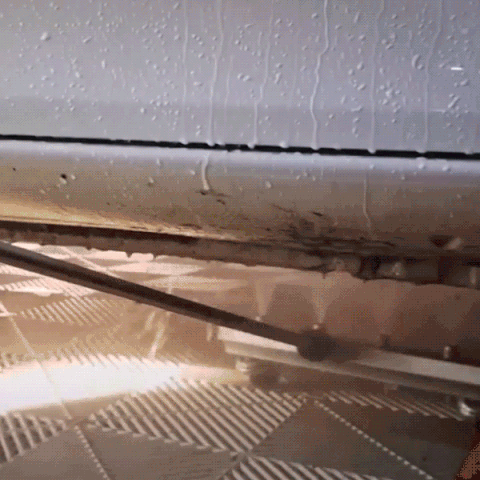 📝 Frequently Asked Questions (FAQs):
Q: Can it be connected to the water supply directly?
A: This nozzle needs to be connected to a power washer. It has a 1/4-inch male plug, easy to connect and release to the pressure washer.
Q: Is there a suggested water pressure or PSI?
A: The nozzle works from 800 PSI to 4000 PSI. It is recommended to use at 2500 PSI or higher to get the best performance of the spray nozzle.
⚙️ Specifications:
Product Dimensions: 14.5 x 5.9 x 2.5 inches
Item Weight: 3.94 pounds
Materials: Stainless steel, Aluminum alloy
Operating Temperature: 50 - 140° F
Connector: ¼ inches
Max working pressure: 30Mpa / 4000PSI
📦 Package Inclusion:

A. Undercarriage Cleaner (Nozzle Up + 2 Extension Wands) 

1 x Spray Nozzle Up
2 x Extension 
B. Road Cleaner (Nozzle Down + 2 Extension Wands)

1 x Nozzle Down
2 x Extension Wands
❗
Note:

 Pressure Washer is NOT included.