SAY GOODBYE TO COLD WINTERS & HELLO TO INSTANT WARMTH & COZINESS ☁️🐑

Our Blanket Hoodies feels like hugging 100 golden retrievers
Whether you're cuddling with your pooch, re-watching friends for the fifth time, or lounging on the laziest of Sunday's — The Blanket hoodie is bound to be your new best friend.
If you are not completely satisfied and cozy, we will give you 100% of your money back!  
- Our Ultra-Soft Sherpa Fleece is a super soft ONE SIZE FITS ALL hooded blanket.
- LOVED by 250,000+ Blanket Hoodie fanatics across the globe (see our 5 star reviews below)
LOVINGLY CRAFTED FROM THE BEST, MOST BUTTERY-SOFT MATERIALS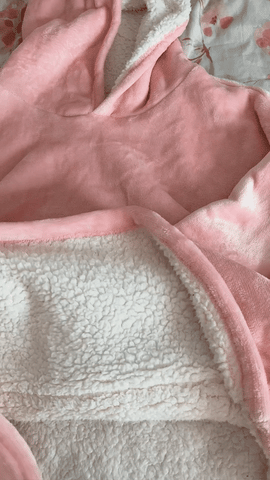 Every Blanket Hoodie is made from Ultra-Soft & Warm Sherpa Fleece on the inside and buttery-soft, flannel fleece on the outside. You'll feel like you're hugging a golden retriever!