Bushcraft and Camping Tools - Carry this outdoor bush
craft wood auger when you're outdoors camping, hiking, backpacking,
bushcrafting, EDC or building with primitive cabin tools in the wild.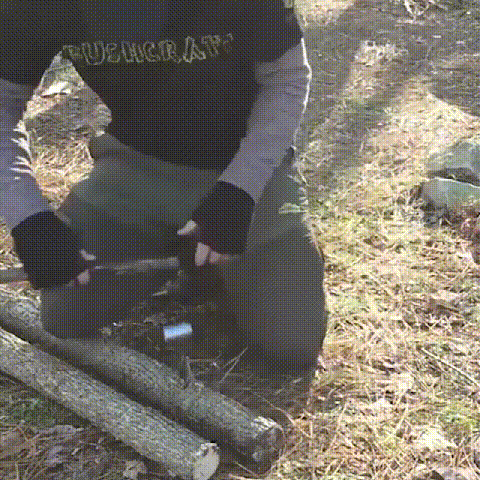 Scotch Eye Wood Auger Hand Drill- The first step is turning the 1 inch wood auger drill bit where you
want a hole (Use a stick through the eye for leverage making the scotch
eye auger drill simple).
Peg Maker - Another part of
this survival multitool is the peg tool. The scotch eyed auger is has a
cutting point for a peg wrench. Hammer into a branch for a peg the same
size as the wood auger bit.


Wide Applications- Recommended for soft wood/green wood projects such as fish traps,
chairs, mallets, ladders, maple syrup taps and most importantly,
survival shelters.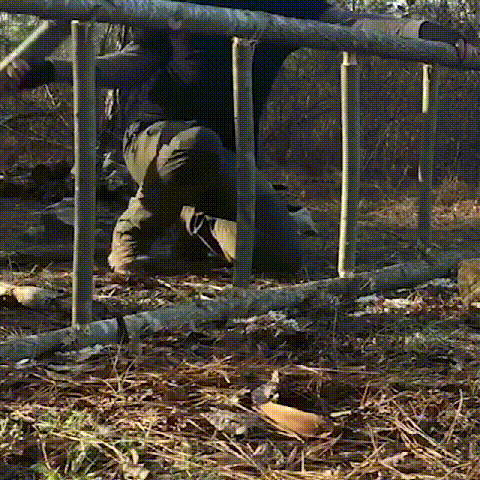 Camping Survival Gear- Throw it in your bushcraft backpack as your ultimate bushcraft tool
over other manual primitive tools and bushcraft survival tools. Even
comes complete with a leather sheath!
TAPERED AUGER HEAD
Bushcraft and Camping Tools has a 1" diameter hole that is tapered on one end to a sharpened edge so that you can make wooden pegs by using a log or mallet to hammer/drill the Auger Head into logs and sticks.
DUAL PURPOSE HANDLE

Run a stick through and use it as a handle for the auger - Remove the stick and the tapered portion acts as a cutter to cut round sockets which are sized to fit in the hole you drilled with the auger
INFINITE USES


This tool practically eliminates the need for making cordage and enables you to make unlimited items and structures - Use it to help you make fish traps, chairs, drinking steins, other tools like mallets, ladders, pump drills, and maple syrup taps - It will even help you make an entire cabin - The possibilities are endless with this amazing Bushcraft EDC Tool.
SPECIFICATIONS



Weight: 0.71lbs
Color: Silver
Material: Carbon Steel
Size: 5.94*2.35 inches
PACKAGE

1*PUMB® Bushcraft Hand Auger Wrench (including leather case)