😍THE ALL-IN-ONE EYEBROW PENCIL THE YOU WILL EVER NEED!✅

A 4-in-1 beauty brow pen which includes a shaper, deeper, concealer and highlighting shade that can be switched in just a push.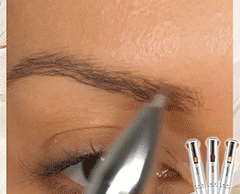 This multitasker pen offers great staying power that enables it to maintain your perfectly snatch eyebrows without fading or smudging.
Simply apply shaper first to outline your brows, switch to the deeper shade for filling,
clean it using the concealer then use the highlighter for a finishing touch and done.
FEATURES:
All-in-One Eyebrow Beauty Pen
A smart multitasking brow pen that comes with not only 1, but 4 different unique shades, including shaper, deeper, concealer and highlighting shade. Each color offers a fine, skinny tip that would fill in, blend and contour naturally to your sparse brow. Allowing you to effortlessly create clean, perfect arches with great depth and fullness at all times. No need to constantly use or carry multiple eyebrow products anymore every time you're shading and defining your brows.
Ergonomic Design
This 4-in-1 brow pen features a regular writing pen design that can be easily gripped on and controlled. Moreover, it is conveniently non-slip and lightweight. The brow contouring and highlighting pen also has a rotating cartridge that enables you to swiftly make it longer. You don't have to messily sharpen anytime anymore when it gets too short unlike with eyebrow pencils.
Long-Lasting Wearing
The beauty pen has an impressive 24-hours staying power that will bring fullness to your brows all day long without fading. It does not get easily smudged or spread even on the hottest of days. Allowing you to have sleek eyebrows without the need to constantly retouch it. Simply use the sharper first to shape and contour then use the deeper shade for filling in your sparsing brows. After that switch to the concealer shade for cleaning in messy areas, gently apply the highlighter to give it a finishing touch and you now have long-lasting, picture-perfect brows.
Highly Portable
This innovative eyebrow pen provides a convenient compact size that can be stashed neatly to pouches, handbags, bags, or makeup kits. It is exceptionally space-saving and it eliminates the hassle of carrying multiple products. Suitable when you're out for work, vacation, outings, parties, festivities, concert, date, parks and more possibilities.
Premium Quality
Made of premium, skin-friendly ingredients that can be confidently and safely applied for everyday use to all skin-types. Preventing any irritations, itchiness, redness and other allergic reactions. It has a smooth texture that allows it flawlessly and evenly glides to any brows without discomfort or scratching. Additionally, this brow is completely odorless unlike other products with strong smells.
How to choose the color that suits you best?
BLONDE: Suitable for natural skin tones or fair skin.
MEDIUM: Suitable for light brown. SuitabSuitable for dark brown, chocolate hair color or dark color. Suitable for all skin tones.
BLACK BROWN: Suitable for dark, black hair color. suitable for darker skin tones.