Not too good at drawing eyeliner for a novice makeup?
Can you easily take your eyes off with a regular eyeliner?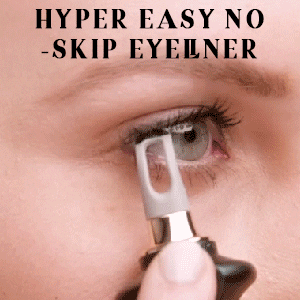 Our Hyper Easy No-Skip Eyeliner is a divine artifact for inner eyeliner design, allowing you to draw on full wrap eyeliner, wing and tightline eyeliner with little effort.
Liz Zélandais, NEW YORK


verified customer


⭐⭐⭐⭐⭐
As good as the pricier brands!
I love getting a gel for such a low price, with eyeliner! I usually use MAC gel eyeliner, but I am converted. I will use this brand forever now. I use black and brown on the eyes. I have dark brown hair and brown eyes so it works for me. It does not fade or come off and is worn all day without fading. Love it!
Helping anyone to improve their professional art skill:
✔ Specially curved precision applicator tip.
✔ Easy to hold handle.
✔ Built-in the rest of the fingers and rounded edge.
✔ Waterproof and Transfer resistant.
Specifications:
✔ Product weight: 70G
✔ Cream Eyeliner Color: Black, Brown
✔ Package Contents: Goldenway®Hyper Easy No-Skip Eyeliner, 1 x Eyeliner Applicator, 1 x Eyeliner Cream.
Frequently Asked Questions (FAQ)
Q: Does it quick dry?
A: Pretty much.

Q: If i cried,would it still stay on?
A: It will stay on, but if you start wiping your eyes with a tissue, you may remove some of it.

Q: Can you use this eyeliner to make wings/cat eyes?
A: Yes you can, you have to work quickly because it dries fast and is waterproof so it's hard to edit once it dries. So be precise or hurry and edit while it's still wet.

Q: Is this waterproof enough to wear swimming or running?
A: Of course, it is totally resistant to water and natural perspiration for up to 24 hours.

Q: Is it easy to remove with makeup wipe?
A: Yes, it is easy to remove with a make up wipe.
MAIN FEATURES:
✨Safe and Precise Curved Applicator
A precise tip which is curved, soft and flexible to conform to the natural shape of the eye will help you draw the upper, inner, lower and full wrap eyeliner.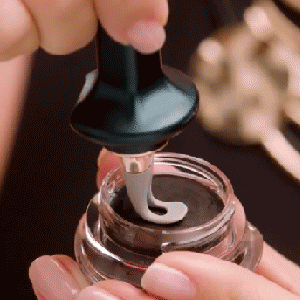 ✨Premium Eyeliner
The cream is long lasting, rich and saturated, waterproof and transfer proof, and does not peel off easily.
✨Ergonomic design
Glide along the lash line without pulling, dragging, or pulling.
Built-in finger rest and rounded edges to stabilize and guide application. The easy-grip handlestabilizes the hand, making even hasty eyeliner a breeze.
✨Suitable for beginners and experts
Ideal for beginners and advanced. Designed to achieve a wide range of eye lifting techniques, including classic, winged eyeliner, tightening eyeliner and others.