What's EDC in your pocket is important
Compact and Lightweight - The compact S51 is everyday carry ready with a EDC hole. Experience an ultrasharp blade with a minimalist and ergomonic shape for all utility tasks like box cutting, package opening, hobby DIY and craft work.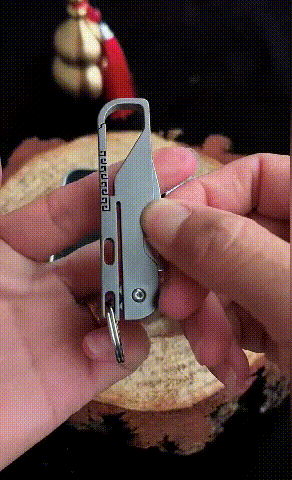 【𝐑𝐀𝐙𝐎𝐑-𝐒𝐇𝐀𝐑𝐏 𝐁𝐋𝐀𝐃𝐄】 The KK09 edc knife features a precision-sharpened D2 steel blade, ensuring excellent cutting performance for slicing, cutting, and delicate tasks.
【𝐂𝐎𝐌𝐏𝐀𝐂𝐓 & 𝐋𝐈𝐆𝐇𝐓𝐖𝐄𝐈𝐆𝐇𝐓】 With a foldable design and dimensions of 2.76"x 0.78" x 0.2", weighing only 17g this folding pocket knife easily fits in your pocket, belts or backpack, make it an ideal companion for everyday carry.
Keychain: the keychain is equipped with a pocket clip, which can be attached to your backpack, purse, and other small items.
Surgical Precision - Each blade undergoes an advanced heat treatment process to ensure excellent precision. Experience an ultrasharp scalpel knife with an ergonomic shape for all utility tasks like paper cutting, box opening, DIY and craft work.
Professionally manufactured: Professional manufacturing, stable performance and high reliability.
Environmentally friendly: Using environmentally friendly abs material, high hardness and wear resistance.
High quality and durable: The folding keychain knife is made of high quality aluminum alloy, which is durable and can be used for a long time.
Suitable for many places: it can be used for camping, hiking, backpacking, hunting, fishing, travel, outdoor activities, etc.
Specifications:
Blade Material: Stainless steel
Handle  material: Titanium alloy
Full length: 10.8cm
Handle width: 2.0cm
Closed: 6.5cm
Blade length: 4.1cm
Thickness: 0.2cm
Package includes:
1Pc * Titanium Alloy Keychain Folding Knife
Note:
Do not touch the knife by hand to try sharp degrees .
Please allow 1-2cm error due to manual measurement.