A Good Quality Door Stopper That's Heavy Enough
To Give It Substance And Strength!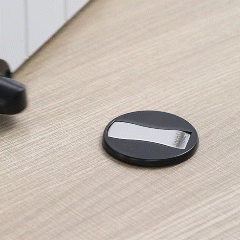 This magnetic door stopper will conveniently hold your door open and protect your walls from damage. Smooth and easy to use! No more disturbing from slamming doors.
Strong magnetic catching force helps holding the door stably. Small metal tongue pops up as door magnet passes over. Installed easily, sturdy, durable and wear-resistant for long use.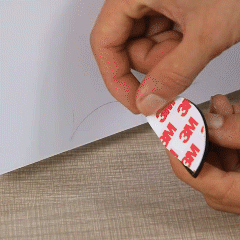 Features
Super Strong Magnetic: The strong magnetic door stop is enough to catch the door firmly, avoid the collision between door and wall as well protect your naughty kids from injury when opening or closing doors.
Safe & Durable: The floor mounted door stopper is made of zinc alloy, solid, sturdy / rust-proof. With million times of impact testing. The door stopper installs flush to the ground so it is not unsightly and you can't trip over it!
Widely Application: Magnetic door stoppers are perfect for preventing the door from colliding with the wall, allowing doors to close slowly rather than suddenly. You can even use the door catch in the bathroom, kitchen, wardrobe, garage, office etc.
Easy Installation: Magnetic Door stop can be completed by sticking 3 M sticker on the door and floor without drilling again. If you still have any concerns, screws and nuts are also included in the package you received. You can also choose to drill with screws for fixing tightly.
Installation Method
Clean floor or any surface for the adhesive

Mark the floor for steel position

Mark and position your magnet on the door

Apply the adhesive sticker on both of them

Stick it to your desired position

Finish!
Specifications
Material: Zinc Alloy
Size: 43 mm x 56 mm x 58 mm
Weight: 96g
Color: Silver / Black / White
Package Included for 1 Set:
1 x Door Stopper
2 x 3M Stickers
4 x Screws