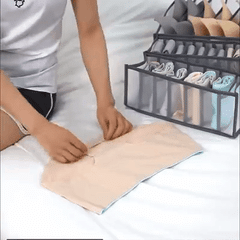 Product information:
High-quality fabric: The closet storage box set is made of high-quality fabric, fine mesh, fine workmanship, soft seams, can be bend without deformation, washable, provides long service time.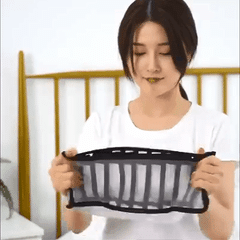 Strong practicability: The set has 3 kinds of closet storage boxes, which are very suitable for all daily underwear, and the set can be washed without odor.
Fino exquisite appearance: the appearance of the closet storage box set is exquisite and practical.
Mejorado improved kit: The internal grid has been changed and widened, the capacity has been improved, the three-dimensional structure of the kit is straight, can be used independently without deformation.
Wide range of uses: The machine has a storage compartment, which can be used to store underwear and socks, neat and clean.

Specification:
Name: Closet storage box set
Material: nylon material
Standard: 6 grids, 7 grids, 11 grids
Dimensions: as shown
capacity:
6 compartments for bra storage: 6 fasteners can be stored, cups can be placed every day
7 rack underwear storage: 14 weeks of underwear can be stored, increased inside the rack to increase capacity
11 rack sock storage: 22 pairs of socks can be stored, and winter socks can also be placed
Size:
Bra box: 32*32*12 cm
Underpants box: 34*12*12 cm
Sock box: 32*12*12 cm
Uses: underwear, socks storage

packing list:
1 * Closet storage manager set (3 pcs/set)

Note:
Product dimensions are measured manually, so there are certain tolerances, but this will not affect the normal use of the product.